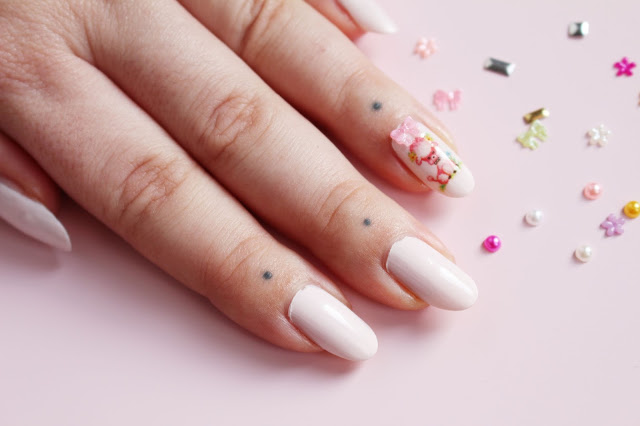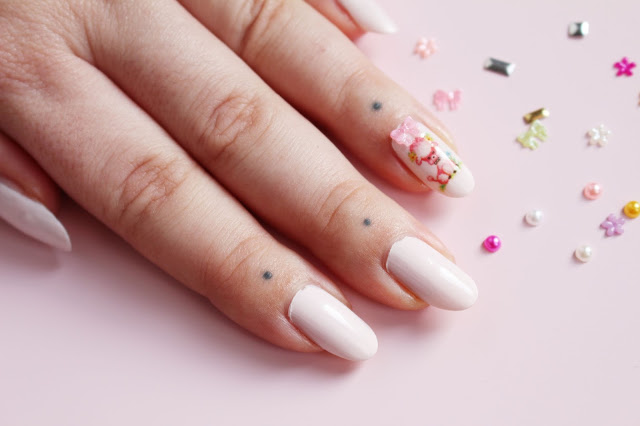 Hello you lovely lot! As soon as I get even the slightest whiff of Spring in the air, I'm cracking out the lighter hues and pastel tones like there's no tomorrow. With adorable bunny and baby chick products in abundance and softer colours like lilacs and mints making a comeback, Spring is without a doubt one of my favourite seasons. Be it the lighter evenings or the prospect of eating your own body weight in chocolate eggs, this time of year definitely lifts moods as we break out of that dreary and sluggish cocoon we found ourselves wrapped up in these past winter months.
So, to ease myself smoothly into the seasonal transition, I decided to experiment with some nail art this weekend and create some subtle little springtime designs. Always eager to try new things, I bought myself some cute nail decals from Instagram shop Jinxie and Trixie, which up until now, have been a completely foreign art form to me. I also purchased a mixed set of nail art decorations from eBay, which includes the most adorable array of mini bows, hearts, stars and jewels!
For the decals to appear sharper on the nail, it's advised you use a light base colour before applying them. Essie is one of my all-time favourite nail polish brands, but of course it was a no brainer for me to opt for a soft pink! Once your base colour has successfully dried, you can then cut out your favourite decal (as close to the image as possible) and dunk it in a cup of water for 15-20 seconds. Just like when a sticker peels away from its backing, when you retrieve it from the water, the decal should peel away too, leaving you with the image on a transparent base.
You may then proceed to press the image down on your nail of choice, smoothening it out from any bumps or bubbles. After you're well and truly sure that you decal has dried, you can then cover it in a top coat in order to secure the image. When this was done, I then decided to pick a cute little bow from my assorted decorations set and perch it prettily above my decal, just to complete the look! With the run up to Easter, I plan on experimenting more with the decals, maybe even implementing a bunny, chick or lamb design, just to make it appear that bit more seasonal!
Have you ever tried nail decals before?